Mr. G living in Bangkok
My Name is George El Enein , Known , as Mr. G , an American citizen living in Bangkok, Thailand since quite sometimes.
I have a family history of prostate cancer , both my father and grand father died of this condition as well as my elder brother who died from the same cause 3 years ago.
Since I knew that this is coming , I started almost 10 years ago educated my self about the all possible options , I have examined most of all new researches conducted in this field by subscribing to most of the sites and medical reports that discuss and publish any new BPH or prostate cancer treatment .
Early this year , My BpH ( enlarged prostate ) symptoms , hit , so , I went for a check up and ultrasound test that came back ( BPH ) positive with a volume of 37 in June 2015 ,
Usually Urologists will give you a choice of 2 groups of medicine :
A). tamsulosin flomax. , that will only treat your symptoms without shrinking your prostate by enlarging your blood vessels to ease your frequent urination problem , the biggest side effect to this medication is ( retro-ejaculation ) if you can live with the headache for the first couple of weeks and your low blood pressure !
B) . Avodart Dutasteride , or any of other names in this group .
This medication will work in shrinking your prostate by blocking the male hormone Testerone from causing your BPH .
The worse choice you can make is taking this medication , unless you wish to live the rest of your life without any sexual activity .
Doctors will tell you , your libido will come back and your ED problem will disappear when you stop the medicine , but if you do your home work and do some moderate research on line , you will find out , ( it is not reservable )
I have taken a couple of tablets of each to try and I stopped immediately after finding out my personal experience confirmed the result of research that I did on them .
As my symptoms increased , I went back for check up on Sept. 26th of this year , my BPH volume was up to 47 this time , And my doctor suggested to consider an operation to reduce the size of the enlarged prostate .
Knowing , all this in advance , like watching a movie I have seen before , I felt sorry for these doctors who graduate from medical schools and just work as a car mechanic just by the book ! , you go to any urologists and he will tell u the same thing .
Done my long and extensive research in the past , I knew that this is a dead end ,
Not to mention , that part of my research was about the natural herbal and alternative medicine that is available out there , tried everything starting from saw palmetto to everything else , nothing worked !
That last resort I kept aside after reading all the testimonials and the explanations available , was Dr.Song 3 D clinic .
Deciding to go to Xiangtan , Hunan , china
------------------------------------------
I have to tell you , if you base your judgement on how it looks like or third party opinion , your decision may be 50/ 50 right or wrong
But if you base your decision on logic and your research , then you will be able to make an educated and well informed decision , it will all make sense , not only that but it will make a very strong and convincing sense .
Not to mention that I have found out later on , even , after I have been there and started my treatment , that Dr, Song Theory is shared by other researchers in the US and China , even though their technique may be different but the base theory is the same
See * (1)
The Theory
------------
First of all , you don't need to be a professional medical practitioner to understand this logic :
1- every sickness has a cause and when you hear the word ( unknown cause ) you know right away it's either medical science hasn't reach there yet , or it did but the cause is not made public for other reasons.
Even Diabetes , cancer and ulcers , all have cause and without treating the cause and only treating the symptoms , you are doing nothing but just wasting your money before you may really waist your life as well .
2-According to western medicine , BPH is one of those ( unknown cause ) medical conditions , they even call it : ( men's menopause ) it's final and has to be accepted as a natural evolution of age , BS !!! , excuse my language .
3- The theory is simple : treat the cause , you cure the disease .
This is not a theory introduced only by Dr.Song , but rather a theory shared among other specialized researchers and even specifically in the field of Prostatitis , BPH and prostate cancer , please refer to my reference below * (1)
The Practice : Dr.Song Clinic
-------------------------
It took me less than a week to make a decision to visit Dr. Song , again this was because of the absolute logic that made absolute sense to me based on my previous research and studies , to be honest , I knew , it's a kind of risk to take , to experiment with a new treatment , but I knew at the same time that this is the best option anyway , what I have got to loose , when based on my Dr.advice , I got to loose it all , any way ?
Picked up from Changsha airport by the wonderful administrative assistant and translator of Dr.Song ; Jenny and Alisa , went straight to the hotel as an early schedule of full complete check up and Ultrasound prostate exam was due the next morning .
The same day arriving at Xiangtan 3 D clinic , had the first consultation with Dr. song , and the first impression based on my previous history was BPH , however , an accurate test preformed By DR.Song revealed the presence of Ureaplasma and Mycoplasma infection .
Important to mention that I had in the past few months severe frequent urination by day as well as by night .
In the second day , the tests came from the Changsha university hospital that indicated that some viruses were positive and the prostate ultrasound indicated presence of severe calcification in the prostate as well as BPH , enlarged prostate with an estimated volume of 47 .
Immediately based on the tests and the examination of Dr.Song , The plan of the treatment was prepared as follow :
1- follow 2 weeks of IV treatment to destroy the EPR of the viruses that was tested positive and improve the immunity .
2- start daily local injection to treat the infection first and eliminate the presence of the Ureaplasma.
3 - during this 2 weeks of treatment , testing the prostate fluids was made to insure the progress of the treatment , and at the end of the 2 weeks , the test was negative .
By the end of the 2 weeks , my day frequent urination problem was almost gone to the point that it felt that I I have forgotten how life used to be easy years ago ?
Unfortunately , I had to leave for business and come back two weeks later to complete my course of treatment plan by Dr.Song .
Nov. 5th Back again , starting :
1- local injection targeting dissolving the calcification and also treating The BPH .
Today Nov. 13 th , the discharge of the calcification started to show up in urine since yesterday ,
My Night frequent urination problem was reduced to 50 % , while my day frequent urination problem , I have already forgotten about !
In my Last exam , My prostate volume size was almost down from 47 to 35 in just a matter of less than a month .
As of today , I'm still following my treatment of local injection , but I believe , I'm on the right track and I'm almost positive that the cure is not impossible .
Any one who wishes to follow up my case , I'm willing to help , share my personal experience or advice ,
I'm not associated in any shape or form with Dr.Song , I'm simply a patient who followed his guts and I'm glad that I did .
My advice to you
----------------
1- Do your home work. Before you follow your urologist recommendations.
2- regardless of your condition , Prostatitis or , BPH , the best thing you could ever do to your self is to get treated by Dr. song .
3- don't wait until is too late , don't go through surgery or take harmful oral drugs that will ruin your life , and for sure don't give up and accept your condition because , you have been told : ( all men in your age have it ) , Again ... BS.
About Dr. Song clinic
---------------------
1- if you come , from where I come from , your first impression when you come in , is :
( that can't be serious ) !!!!! , a clinic without many patient waiting or a group of nurses , even though it is very clean , modern , professional , but looks like no business , the western impressive expensive image is not there !
Yes, this is what we call ; (( quality not quantity ))
Patient by appointment only , one at the time , where you spend 15 to 20 minutes daily with your doctor to evaluate your condition , and the progress of your case before starting the treatment .
Dr. Song , don't treat his patients by the book , like urologists do ,he rather creat a book for each single patient of his .
2- it's very important to mention Dr. Ivan , Who assist Dr. Song and who possess a great knowledge of his field as well , Dr. Ivan Speaks English and has a great experience in evaluating and treating as well .
The time he spends with patients to follow up their treatment on daily basis , will cost you a fortune if you find a urologist that will do the same in The US. For example .
3- Dr. Song and Dr. ivan both share the passion for their profession , and Dr.Song is not a man that will easily give up , this is how medical practice was done in the old days , doctors treat patients , not rip them off , doctors give hopes not tell you ;( all men have it , you got to live with it )
I'm glad I came here , and I hope you do it for own sake.
Mr. G
Treatment theory by other Researcher in USA .
http://www.fertilitysolution.com/Treatment-for-Chronic-Prostatitis/
During my ten years as a practicing pathologist I have seen numerous surgical specimens removed either for benign prostate hypertrophy or for prostate cancer. All of these specimens, without exception, revealed signs of infection. It is therefore not an unreasonable hypothesis that chronic prostatitis, prostate hypertrophy and prostate cancer represent a continuum of a disease process, and effective eradication of the infectious element should be pursued aggressively.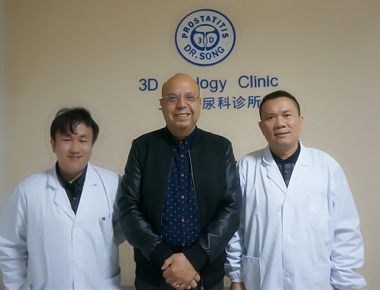 Video Link:
https://www.facebook.com/video.php?v=160003561020409
Note: If you have a special ask to contact this patient, the clinic can provide his contact information.