About Your Visit


Dear Patient,
At our Clinics, Dr. Song and his staff understand the importance of delivering a positive experience to every patient. With that in mind, we are committed to providing our patients with the highest quality care and patient satisfaction. In combining the right mixture of patient treatment with the best technology, our practice is fully equipped to handle all of your Prostatic needs.
The Clinic is clean and orderly and our 3D medical team is very open, caring, and friendly. The treatment process is professional and comprehensive. Communication is paramount and all aspects of the patient's condition are explained in an atmosphere of honesty and confidentiality. As the treatment progresses, patients often find that they become part of the Clinic's family.
Here is Mr.Gareth from the UK visit our Xiangtan clinic Practical Tips , and we hope his Practical Tips can help you.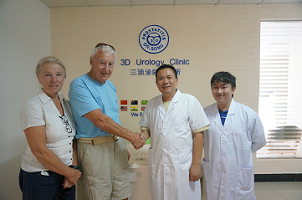 Practical Tips of Mr.Gareth from the UK:
Practical Tips
Visa: Firstly, agree dates with 3D and get their invitation letter naming all visitors with full names and date of birth. You will need to book air travel and accommodation before applying for your visa which is a tourist visa-ask for 30 days or 60 days. The visa agent took two weeks to return the passports.
Travel: Pick your route to Changsha either Beijing or Hong Kong work well to make your connection.
Arrival: you will be met on arrival and escorted to the hotel and the next day to the local hospital for a fasting blood test, scan and Ultrasound. After these tests, we took a taxi to the MGM hotel and a clinic to meet Dr. Song. Taxis are very inexpensive. The introductory meeting with Dr. Song will cover, your long term medical history and prostate condition. Bring with you any medical notes and list of medications, especially antibiotics. Stop taking any non-essential medication for two weeks before arrival.
Prior to departure set up the details of Mr. Song's account with your bank and send a test amount and get confirmation of receipt.
I sent €1,000 in advance to pay for the hospital and tests on the first day. Transfer GBP, you will get the USD official exchange rate. Transfer USD and no exchange loss occurs as all billing by the clinic is in USD. Any excess will be paid back in the currency of your choice.
Hotel can be paid by credit card but alert your provider to where you will be in advance. I suggest you use the PC or tablet, you will take with you as some banks systems check, the device identity before allowing access to the account.
Communications:
Wifi is widespread but occasionally overloaded and slow. I took an Android tablet but all apps need to be downloaded in your home country. Google is blocked in China so set up Yahoo, or other as your search engine.
Skype works well and local SIM cards can be bought but overseas calls are very expensive.
Local Travel and accommodation:
The 5 star MGM Hotel was very comfortable, economic, and convenient for the clinic. A double room was 40 GBP per night with breakfast. We often walked to the clinic in about 40 minutes or took a local bus for 1 yuan cash (about 10 pence)
Dining:
The hotel has good dining but local restaurants at the nearby BBG shopping mall equally good for half the price. 100 yuan (10 GBP) buys a good meal for two. Menus are often provided with photographs or an English text. Bring your own knife, fork spoon. Cash is the normal and tipping anywhere is not expected and regarded as a little insulting.
The local community are friendly and curious about the rarely seen westerners and you will be quite safe at any time. Older people are regarded with great respect.
Entertainment:
The TV is pretty bad, so we took DVDs and the hotel found a player. Take books or a Kindle as English books are not obtainable.
Shopping:
All your normal daily needs can be found in the local supermarkets, shops and pharmacy.
Don't expect to be able to get any clothing or shoes that will fit as the Chinese are generally very slight and western sizes are off their scale. Outside of the hotel and the big malls cash is used.
Daily Routine
You will go to the clinic each morning for treatment six days a week. Take a log of your nightly urine volumes and times, so a measuring jug will be essential. Afternoons are usually free but get rest and warmth to help your immune system fight any infections. If you walk to the clinic beware of the silent electric scooters which go anywhere including the pavement.
After-Hours and Emergency Care:
If you need emergency care after-hours, you can do as follows. First, you call the Clinic's phone number—+86 186-73216429 to tell the translator about your emergency condition, and then you will be called back shortly with guidance from the doctor. Second, if the doctor thinks that it is necessary for you to return to the Clinic for emergency treatment, you should return as soon as possible. But if the doctor thinks your condition is beyond his reach, he will accompany you on a visit to hospital for treatment. You may need to pay for this emergency treatment cost.
Summary
Above all enjoy your stay. We looked forward to going to the clinic each day and meeting the other patients from all over the world. There are usually not more than five patients under care at any one time, so you get a lot of time and personal attention from the clinic's team.
Good luck with your trip and treatment, I am sure you will never regret your decision to come to the Xiangtan 3D Clinic.